Adayume is a song sung by Suga Shikao. It is used as the opening theme in XxxHolic RO OAD - Adayume. 
Romanji Lyrics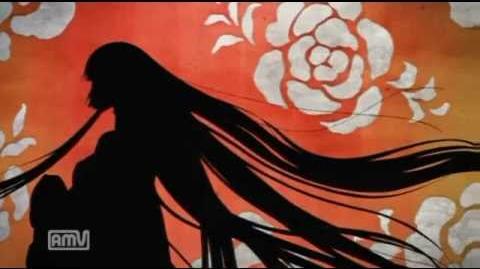 heya no naka jitto uzukumatte
kurayami ni me wo korashite iru to
tonari no heya de dareka ga
hora kimi wo nozoite iru
heya no naka TEREBI mo tsukezu ni
mayonaka ni mimi wo sumasete iru to
dokoka de mata dareka ga
kimi wo uragirou to shite iru
kimi no yume made
itsu no ma ni ka tabetsukusou to shite iru
bokura wa donna fuu ni ashita wo sagaseba ii?
itsumo utsumuite bakari ja mou irarenai shi
kimi no heya ni donna akari wo tomoseba ii?
jibun no ashimoto sae mo obotsukanai kuse ni...
chikatetsu no hito de afureru HO-MU
sugu ushiro kehai wo kanjiru to
shiranai dareka ga kimi no ato wo zutto tsuite kiteru
nagai keiteki ga itsu made mo mimi ni nokotte iru
bokura wa donna fuu ni yume wo mireba ii?
itsumo tameratte bakari ja mou irarenai shi
dareka ja nakute boku ga kimi ni dekiru koto
futekusareta mainichi ja mitsukaranai kedo...
yoru to asa to ga irekawaru isshun ni dake
bokura ni fushigi na chikara ga yadoru to iu... kanarazu...
English Lyrics
Still crouched in the room
Those peering eyes of darkness

Except that you see someone in the next room
If you turn off the TV in your room

And focus your ears onto the dead of the night
Some one somewhere is trying to betray you, trying to devour your dreams before you know it.

So in what way should we search for tomorrow?
I can no longer bear keeping my head down

So what light should we turn on in the room?
Although we're quite unsure of our own footsteps

While the subway's platforms are crowded with people,
as soon as you feel someone's presence behind you,
and realise that a stranger has been following you all this time.
Then, the sounded alarm will be screeching for a long while.
In what manner should we dream?
Besides, I can no longer bear being hesitatingly indecisive.
In these tarnished mundane days,
I still can't find something that I can personally do for you...
In the very instant when night and morning swap their posts,
it's said that an amazing power will be dwelling in us...for sure...
In what way should we be searching for our tomorrow?
Besides, I can no longer bear hanging my head down.
What kind of light should we turn on in your room?
Because we're still quite unsure about our own footsteps...