xxxHolic Updates
Here's a summary of the updates for xxxHOLiC drama:
They haven't made any special requests for this adaptation.
They left everything in charge of the director and the staff.
Their favorite scenes upon reading the script were the beginning, when Watanuki meets Yuuko, and the ending.
They confirm the absence of Mokona in this adaptation, and recognize that it would be difficult to have it as a plush toy or CG, even though they would really like to see Mokona in a live action.
In the case of the TV drama becoming a regular series, they would like to see more of Anne's performance and Watanuki as the shop's owner in "Rou".
Naoto Takenaka will play the role of Ayakashi in the form of a doctor (and not Haruka Doumeki)
The titles of the first 6 episodes of the XXXHOLiC TV Drama were revealed:
Episode 1 - 縁 (Connection)
Episode 2 - 対価 (Compensation)
Episode 3 - 百物語 (100 Stories)
Episode 4 - エンジェルさん (Angel-san)
Episode 5 - 紫陽花 (Hydrangea)
Episode 6 - 女郎蜘蛛 (Jorougumo)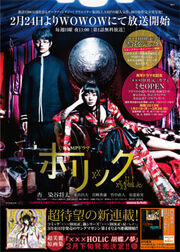 The poster below announces the beginning of the XXXHOLiC Rei serialization for Young Magazine #14, to be released on March 4. The return was scheduled for February, but it was probably delayed to March due to the incident regarding Young Magazine and a picture of AKB48 idol.
Also, the XXXHOLiC artbook release has been pushed back to the end of March, this time it seems to be definitive. The artbook title will be XXXHOLiC Kochou no Yume (Butterfly's Dream).
EDIT: The first episode of the TV Drama is available online: http://www.nyaa.eu/?page=torrentinfo&tid=408193
Ad blocker interference detected!
Wikia is a free-to-use site that makes money from advertising. We have a modified experience for viewers using ad blockers

Wikia is not accessible if you've made further modifications. Remove the custom ad blocker rule(s) and the page will load as expected.